News Review - 16 Aug 2019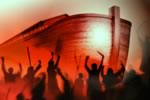 Jesus warned the disciples about end time religious deception… about wars, famines, pestilences and earthquakes… and then He added…
"As It Was In The Days Of Noah"
Privately to His disciples, Christ explained:
Jesus warned them against religious deception… about wars and rumours of wars, nations rising against nation, about famines, pestilences and earthquakes… ending this section by saying that;
What Jesus warned them about were upcoming events. When the religious leaders of the day also asked Christ about the timing of the coming of His kingdom, He gave them a very different answer!
We must keep in mind that the religious leaders were always trying to trap Christ so that they could accuse Him before the Romans and get rid of Him. They saw Him as a threat to their leadership position.
The interesting point is that He then said to His disciples, apparently in the presence of the Pharisees…
In other words, to most of those alive at the time of the end of this age, the end would be sudden – and total - just as it was back in Noah's time, and in Sodom and Gomorrah!
But people had been warned. Noah was around 100 years building the ark. He was a preacher of righteousness. God always warns.
God had His prophets warn both ancient Israel and Judah of their impending destruction but they would not listen - because all of mankind has been deceived by the god of this world, Satan the devil!
Right now, the warning is still available on several websites. We still have the warning given by Jesus Christ to His end time Apostle.
The Days Of Noah?
So what was life like just before the flood? Why did God destroy everything, except Noah and his family?
Dispelling The Myth
Education in our modern world aggressively promotes a totally materialistic view from evolution. According to this theory, man "emerged" in the dim and distant past from a monkey, shaking off the earlier green slime by a series of lucky mutations, to gradually become more and more "human". His primitive way of life changing gradually over millions of years, to culminate in our "wonderful" society today!
Nothing could be further from the truth.
Man was created, a perfect physical/mental specimen. Since then, mankind has been steadily suffering detrimental mutations from what God created – DE-volution both physically and mentally – to end with this civilisation today, the final "de-generation".
They might have had different technology pre-flood, but think: Our world today and its technology has all come about in the last 200 or so years.
The pre-flood era lasted for 1656 years. Back in pre-flood times people lived for around 900 years. They all spoke the same language. They were physically and mentally superior to us. Note what God said about people just after the flood, when they were building the tower of Babel:
Remember what God said about their way of life…
" …every imagination of the thoughts of his heart was only evil continually."
" The earth also was corrupt before God"
" …the earth was filled with violence."
The whole earth itself was corrupt… the animals were corrupt…
Had they been dabbling with genetic engineering?
The land, the animals and the people were corrupt – and the world was full of violence. Sounds a lot like our world today!
Corrupt Minds
Looking at today's politically correct world, we can start to understand how corrupt things are. God created man, then He created woman. Simple. Two sexes. Not so today. Apparently people can now choose their own sex – even children as young as just three years old. Criticize the "politically correct brigade" at your peril, as the following entertainer soon found out.
Pornography: Corrupting Sex
The saying goes that our bodies are what we eat. On that basis, we will become mentally what we allow into our minds!
Pornography: Corrupting Minds
Child trafficking is going on - and as the investigation into Jeffrey Epstein appears to reveal, at the highest levels of society!
Why? The following article provides the link;
With A Perverted Mind, Anything Goes!
Now its "acceptable" for your daughter to be advised to get a job in the sex industry as a prostitute, according to this politician.
Corrupt Science
The genetic engineering craze goes on and on. Having genetically modified much of the food we eat, now we start on the animal world!
Corrupt Food
According to some, eating meat is unethical, ecologically selfish and unsustainable. " It's wrong to eat meat" they cry, "eat vegetables".
Corrupt Religion
It is hard to comment on the following article – it is so way off the scale. But as it is claimed that the writer is a "leading New Testament scholar" there is one point we need to notice, and that is the conclusion. She calls for… "a ban on all Bible reading until the Lord agrees to revise history to conform to her standards."
This takes religious corruption to a whole new level.
Destroy The Family – Destroy The Nation
An Epidemic Of Violence
Minds – Corrupted By Medical Drugs
Corrupted Education
Corrupted Entertainment - 'Demented And Evil'
When "entertainment" sinks to this level, it takes violence to a whole new level.
USA: Destroyed By Civil War?
According to the following article, civil war in the USA is a distinct possibility.
The 1960's - Human Nature – Minus Purpose!
Writing back in the 1960's, Mr Armstrong explained why they were having all of these problems back then. We are now 60 years on and there is yet again an outburst of corruption and violence, but far more serious than back in the 1960's. What Mr Armstrong wrote back in the 1960's certainly applies to our world today – a world full of corruption and violence – just as it was in the days of Noah!